Window Installation Contractor
Are you looking for a reliable window installation contractor with years of experience and a company who cares for their customers' homes as if it were their own? EnerClear Exteriors is proud to be one of these companies with a commitment to sourcing the best products, showing excellent craftsmanship and a focus on high-quality service.
EnerClear Exteriors will complete your window installation or window renovation projects to your full satisfaction. We will provide you with advice for your specific situation, work within your budget and any time constraints. It is important to us that you enjoy living in your home and that we maintain the trust that our clients have in us.
For any type of window renovations in Calgary and the surrounding area, EnerClear has many options for you. Our handcrafted, custom windows come in a variety of geometric shapes and the screens are a fibreglass mesh. We also take security seriously, so your windows are equipped with appropriate locks of excellent quality. Let's take a look at some options you can choose from for your window:
The most popularly-demanded material for window frames in Alberta is the thermal-efficient vinyl (PVC). It comes in a variety of colours, and customizable options, making it an aesthetically-appealing long-term investment.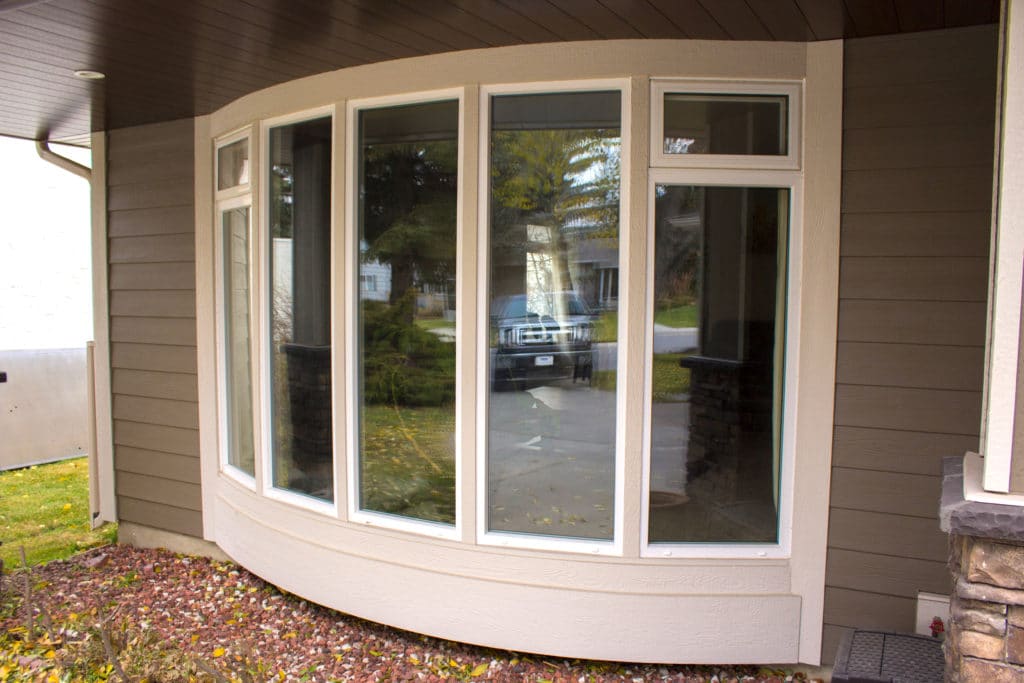 If your Calgary house still has wooden windows, EnerClear can replace them with neat vinyl (PVC) window installations that will serve you for decades. Wooden window frames often look elegant depending on the type of wood, grain patterns, stain or paint chosen. However, wood window frames, like all wooden exteriors, require routine treatment to prevent rot and tear. They are expensive to maintain and are the least thermal-efficient of all types of window frames.
Again, aluminium window frames are hardly used for Canadian homes because metal naturally conducts (and thus, easily loses) heat. Sometimes, our clients opt for wood frames with aluminium on the exterior. This is more durable than wood alone, yet retains the aesthetics with the wooden portion visible inside the house.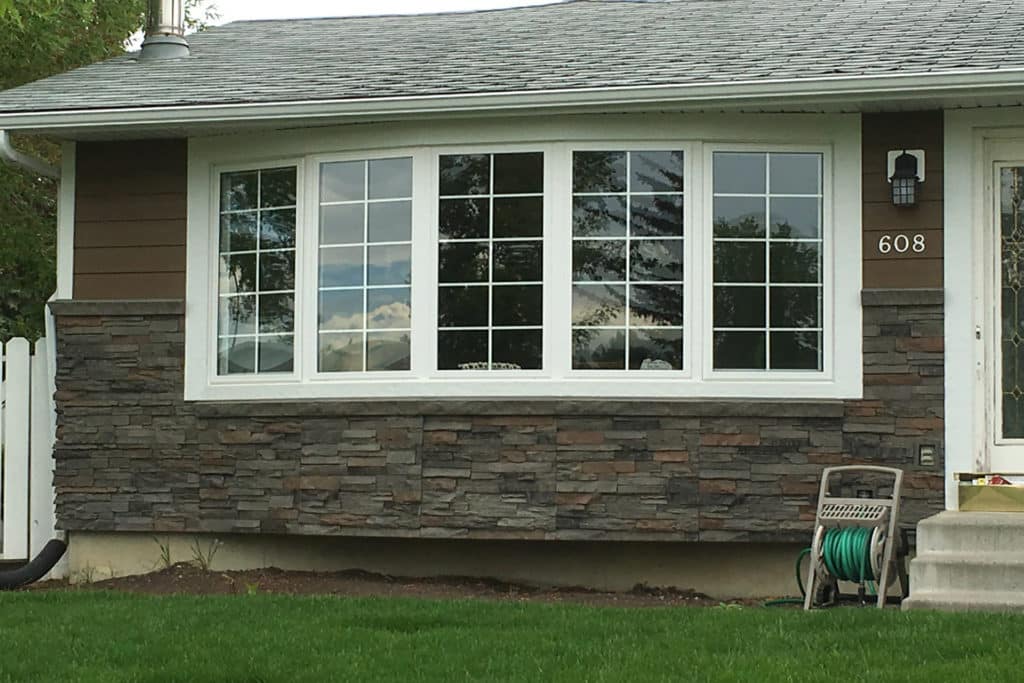 Selecting The Glass For Your Window
The glass (also called lite) comes in various materials and designs. The panes can be dual or triple layered to increase energy-efficiency and noise reduction. The windows feature smooth, silent operation and triple weather seals to keep noise and bad weather out.
As with decorative glass for doors, the lites can be textured or frosted. You can also include internal or external grids, which add style and balance to the appearance of your windows. There are numerous grid profiles to choose from and all grids are enclosed within the insulated glass unit for easy cleaning. For a subtle touch of elegance, you can opt for the polished V-grooved glass, instead.
Depending on function and aesthetics, there are a number of window design options that
EnerClear Exteriors can install in your Albertan home:
This window features one sliding panel, also known as sash, while the other is fixed. Opening a single-slider window is only done in one direction, stacking over the stationary panel. It is possible to remove the sliding sash for cleaning.
In the double slider configuration, both sashes can slide horizontally along the glide system. Therefore, the direction of ventilation can be controlled: full on the right, full on the left or partially on both sides. The sashes can be lifted out for cleaning.
Unlike slider-types, casement windows are designed to swing out like a door. They allow for maximal airflow and are available in your choice of left or right-side hinges. You can also choose the number of panels.
There are usually two panels in a single-hung window configuration. While one is fixed (usually the top one), the other slides open upwards. Ventilation is thus limited to the bottom. This lower sash may also tilts inward, making cleaning easier.
This type of windows also often come in two panels, only that both sashes slide vertically, in opposite directions. Ventilation can come from the top alone, bottom alone or both. Most sashes are also designed to tilt inward for ease of cleaning.
Our custom-manufactured three-panel bay windows are available in both 30 and 45-degree angles to suit your project requirements. They extend the room and maximize your view of outside.
Our custom manufactured 4, 5 or greater panel bow windows are available in both 10 and 15-degree angles. These extend the room into an arch and also maximize the outside view.
A picture window is designed not to be opened. They are largely decorative and allow for light to come in but cannot provide ventilation. They are therefore most energy-efficient.