EnerClear is an Exterior Renovations Company
Your exterior doors should reflect your personal style while adding grace and value to your home. After all, they serve as the gateways to your house. EnerClear is an exterior renovations company that offers a full range of energy-efficient doors in colours and styles that suit your personality, add flair to your house and keep you safe. We understand the importance of high quality doors and only recommend products we'd install on our own homes.
As seasoned exterior door contractors, we are here for you, whether you need door installation in Calgary, door replacements or even door repairs. Our experienced workers will be there from start to finish. Our job is never over until you, our valued client, is happy! We believe in providing excellent customer service from the minute you contact us and can trust that your project will be in safe hands when you choose EnerClear Exteriors.
Still haven't decided on the right door material for your home? Let's look at some of the different types of door materials you can choose from.
In Canada, fibreglass doors are becoming increasingly popular as they are highly energy-efficient, quite elegant and require minimal maintenance.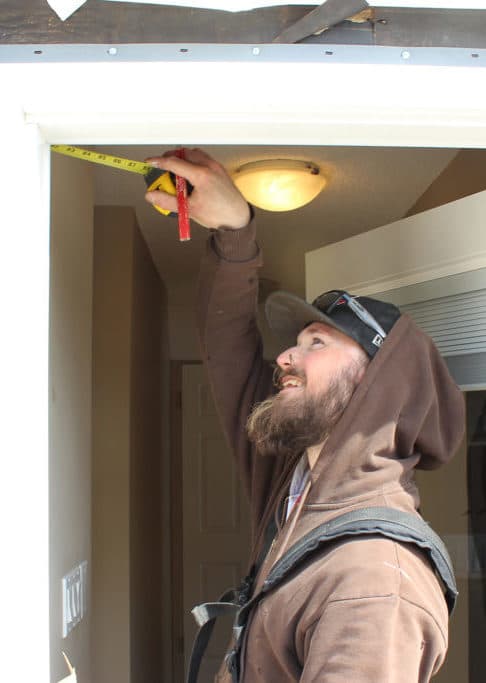 Fibreglass Doors with Composite Frames
In Canada, fibreglass doors are becoming increasingly popular as they are highly energy-efficient, quite elegant and require minimal maintenance. Fibreglass is dent-resistant, difficult to break, and thus, durable. Additionally, if fibreglass does break, the broken pieces are rounded and do not have sharp edges that can harm people or pets.
At EnerClear Exteriors, we offer durable composite frames that will not peel, rot, corrode, warp or bend, even with the harsh Southern Alberta weather. Our fibreglass panel-composite frame doors are absolutely beautiful. They can be customized into whatever beautiful stain or design you desire and can be made to closely resemble wood. The glass portion can also be as simple or decorative obscure as you choose.
We install our fiberglass doors using polyurethane foam, an eco-friendly material, which provides that hermetic seal to keep drafts out (and your energy bill low).
Vinyl doors are a relatively affordable option with good energy efficiency. They also come in a variety of colours. At EnerClear Exteriors, we recommend them for their durability and low maintenance properties.
Often used as builder grade entry doors and are now being replaced by fiberglass. Steel doors are easily paintable and long lasting but show wear and tear over time from dents, scratches, etc. Most steel doors have wood frames which require painting every couple of years to maintain.
A while ago, most Albertan houses mostly had wooden doors, which were made from maple, oak, mahogany, pine, alder, cherry, and other types of tree. Wooden doors can be beautiful; however, wood is the least thermal-efficient type of material to use for your front door and can be very expensive.
Give us a call today and let EnerClear Exteriors help you to choose an amazing front door or patio door that suits your home!
Your front door makes a statement about you. In the time your visitor spends ringing the bell, they have already assumed a lot about you. Many clients like to have glass inserts, either decorative or a more modern simple clear look. Some opt for the classic stained glass look, which gives a variety of colour and design patterns while others like frosted glass. The transparency of these glass door inserts in Canada is rated on a scale of 1 to 10 (least obscure to most obscure). This way, you can maintain the level of privacy that you choose.
When you go with one of EnerClear's highly energy-efficient fibreglass doors, you will find it hard to believe that it is not wood. The whole door can be customized to fit right in with the rest of your decor, with whatever stain, pattern and colour you desire. In addition, it is much stronger than wood, requires little maintenance and is weather-resistant.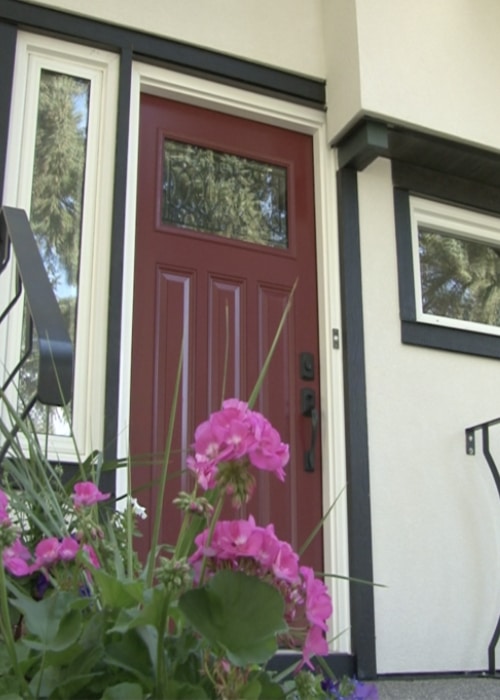 The patio is one of the happiest places in a home, because it is where spring and summer memories are made. Most patio doors in Calgary are sliding doors, with at least one panel gliding past and stacking over the other(s).
They also have screens to allow the fresh air (or barbecue aroma) come into the main house while keeping bugs out. Insects are not the only things you want to keep out, patio doors need to be thermal efficient to keep the cold out during our long winters.
Another style is the folding door, which has more than two panels that collapse horizontally like an accordion. It usually has an elegant feel to it. Some people also favour swinging (French) patio doors, which open like regular doors upon their hinges. On the basis of design, swinging doors are more energy efficient than sliding doors.
When it comes to patio door materials, Albertans often favour vinyl (known as PVC) in a metal, PVC or hybrid frame. This is to allow the daylight to shine in unhindered, unlike wood. Also, wooden exterior doors are prone to warping, sagging and wearing out, especially when not regularly treated. Instead of periodically having to do a wood door replacement, it is best to choose something more durable.
Depending on the direction of the sunlight and your need for privacy, you may also want to get panels, blinds or curtains. Mini-blinds are also becoming popular in Alberta. Like grids on some windows, they are sealed in between two layers of tempered glass, which means that it is unlikely to get tampered with. In addition, this system is thermal-efficient.
Your patio door will also require security so that intruders do not slip in. Our patio doors come with locks on the handles as well as an optional foot lock on the sliding doors. What matters is that the locks are dependable and the door is installed properly to be secure. EnerClear is a residential door installation and repair company that only goes with trusted brands.